The democracy Spain regained in 1978 faces a critical moment. The party of Pedro Sánchez, acting prime minister since July, is trying to make his role official by offering concessions to secessionists, unleashing a constitutional crisis.
July's national elections threw Spain into upheaval, with the major parties all falling short of governing either on their own or through a likely coalition. That elevated regional parties into key blocs that Mr. Sánchez's Spanish Socialist Workers' Party has a history of courting. For the past five years, the Socialists have ruled the country in a coalition with Podemos, a populist extreme left-wing force. Among the Socialists' supporters in Parliament is the Bildu party, political heirs of the terrorist group ETA.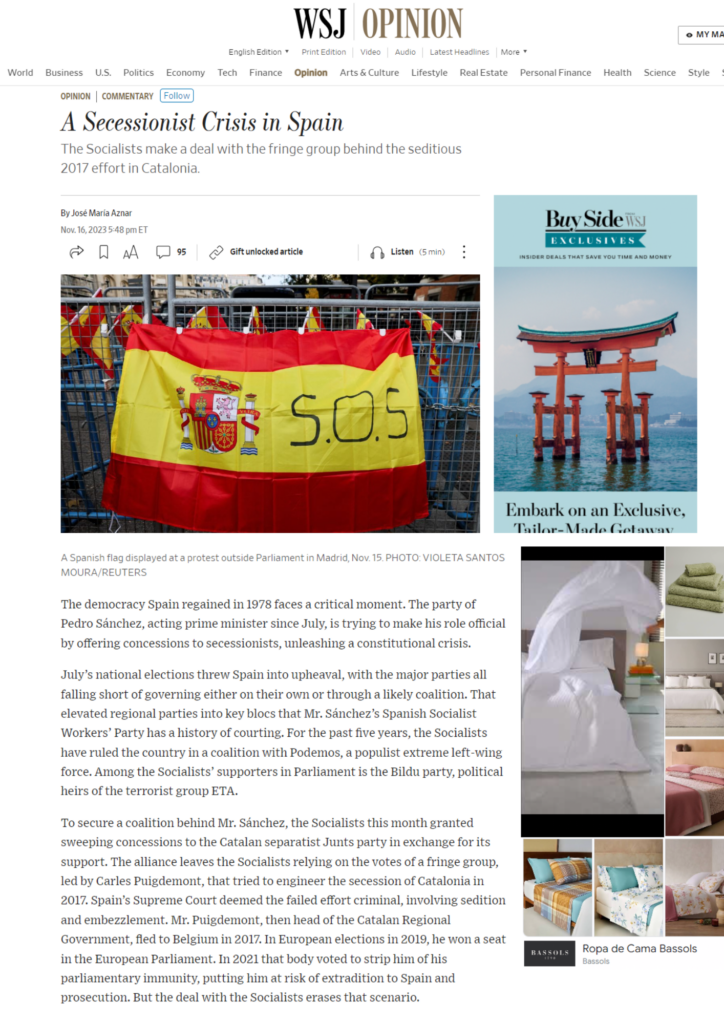 To secure a coalition behind Mr. Sánchez, the Socialists this month granted sweeping concessions to the Catalan separatist Junts party in exchange for its support. The alliance leaves the Socialists relying on the votes of a fringe group, led by Carles Puigdemont, that tried to engineer the secession of Catalonia in 2017. Spain's Supreme Court deemed the failed effort criminal, involving sedition and embezzlement. Mr. Puigdemont, then head of the Catalan Regional Government, fled to Belgium in 2017. In European elections in 2019, he won a seat in the European Parliament. In 2021 that body voted to strip him of his parliamentary immunity, putting him at risk of extradition to Spain and prosecution. But the deal with the Socialists erases that scenario.